08 mar

Music Library Association (Orlando – 2017)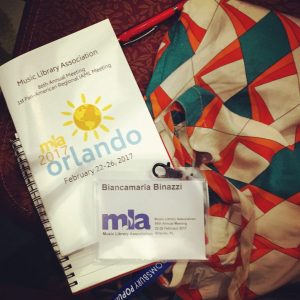 Music Library Association (Orlando – fevereiro 2017)
http://www.iaml.info/de/comment/reply/4971
Reflexões do Michael Crowley, da Biblioteca de música do The City College of New York, sobre Pan-Americanismos inter acervos musicais:
Aside from all the indispensable information on instruction, collection development, Latin American reference sources, archival practice as well as the slew of presentations featuring distinctive music collections from all over Pan America, one of my favorite highlights from the 2017 Pan-American Regional IAML meeting has got to be the friendship formed between myself and two Brazilian delegates, Flávia Camargo Toni and Biancamaria Binazzi from the Instituto de Estudios Brasileiros, Universidade de São Paulo.
Our mutual love for Brazilian popular music helped us clique right away but as our discussions progressed, we learned just how much we had in common, including a profound respect for the work of Carleton Sprague Smith, a man who pioneered cultural exchange between the United States and Latin America in the first half of the 20th century.
Biancamaria told me about her research involving Franklin D. Roosevelt's 'Good Neighbor' policy, a piece of legislation that supported Smith's travels to several South American countries with the intention of building a cultural bridge between the United States and nine host countries. The sustained interest in the projects Smith put into motion during his career stand testament to the success of his pursuits.
In her presentation during the Latin American Forum: Improving Access to Music Resources through Cooperation, Flávia Camargo Toni showcased the IEB's holdings of materials related to the work of Carleton Sprague Smith and called on the music library community to help develop a strong network that ties together the collections presently scattered across two continents, promoting further research and scholarship (as well as education for librarians and musicologists) in the process.
In a surreal twist, Flávia and Biancamaria introduced me to John Shepard (Music Librarian at UC Berkeley), who had actually met Carleton Sprague Smith when he worked at the New York Public Library! He shared a few anecdotes about Smith's fiery personality and passion for Latin music which brought Smith's story to life. Shepard encouraged me to read up about Smith by checking out his article "Carleton Sprague Smith: Pan-American Holdings in the Music Division of the New York Public Library for the Performing Arts" from the March 2006 issue of Notes.  It became clear that out of all the amazing resources I learned about at MLA 2017, the people themselves proved to be the finest resource of them all.